DIN GIOR tattoo & piercing is a PREMIUM TATTOO CLUB, nice to meet you! You're here because you're looking for quality. Tattoo studio DIN GIOR implements experience of USA and EU countries in its work. Perfection is our primary goal. Smiling faces of clients, genuine amazement and happiness form a paradigm of the studio! We pay great attention to hygiene in studio; we use only disposable high quality consumables and expensive professional equipment.
    Tattooing is our passion and our life!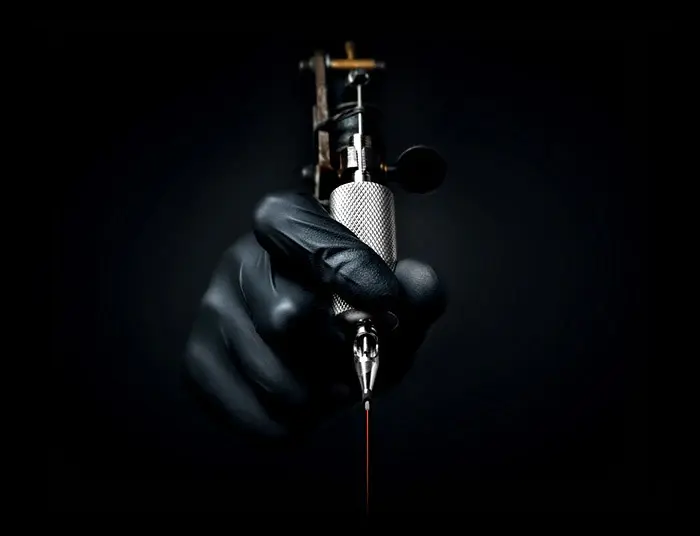 SAFE. Proven disposable consumables. Sterile needles, barrier protection and professional materials contribute to fast healing of tattoo and provide guaranteed protection from troubles.
QUALITY GUARANTEE. Skilled specialists of DIN GIOR tattoo & piercing studio. Tattooing is a procedure that requires strict observance of sterility and safety rules as well as strict observance of healing rules.
REASONABLE PRICE. Price of one session (3-4 working hours) is only 200 euro. Moderate price and calm atmosphere – it is a unique opportunity to get a tattoo in very comfortable zone for adequate value. Minimal price (one-half working hour) is 85 euro.
PAINLESS. Service is provided at extra cost. Modern painkillers will completely release you from sense of discomfort during tattooing. Guaranteed Result at level of 80-95%.
HEALING FILM. Service is provided at extra cost. Film Suprasorb F will help you to recover quickly and to heal the tattoo without any loss of quality. It is comfortable! You won't have to wash your tattoo 3-4 times a day.
Specifics of realistic style constitutes in most accurate and full conformity to the original. Colored (Realistic color tattoo), black and white (Realistic black & gray tattoo) compositions, 3D and portrait tattoos are usually allocated. This style requires the highest level of tattoo master artistic skill.
Surrealism is a creative and original style of tattoo. Fragments of surrealist artists' paintings, children's drawings or stories from your dreams may be taken as key image. Mind games on your body.
BLACKWORK/ GRAY WASH TATTOOS
Blackwork is a style presupposing tattooing with the use of only black pigment. Nevertheless, gray wash tattoo style uses grey pigment along with the black one. Often it is even dominant.
Colored tattoos. It is not an independent style, but colored variation of above-mentioned styles. It is worth mentioning styles predominating, but not limited to, in colored implementation: Trash Polka, Traditional, Water Color, New School, Old School, Neotrad, Japan, Biomechanics, Minimalism, Tribal etc. And here are styles more common for black and white tattooing: Celtics, Chicano, Dotwork, Geometry, Lettering, Linework, Mandala, Polynesia, Maori, etc.
Graphic tattoos are made by clearly defined contours with the use of hatching for covering and shading. Graphic tattoos have one important distinction that lies in the technique of work performance. All tattoo shades are made with hatches or dashes. Engraving style is similar by the technique of performance.
Our masters can make tattoo in any style and every one of them always have ready sketches. Also you can develop the image together with master for free.
HOW TO GET MYSELF PREPARED FOR A VISIT?
Before you visit please do not have coffee, energy drinks and alcoholic drinks.
Try to stay relax and trust your Barber Master. We recommend you to eat well  before your visit the parlor, have enough sleeping and take a shower. It is very important not to drink alcoholic drinks the night before your visit to the parlor, Because alcohol increases blood circulation for the next 24 hours.
IS IT SAFE TO GET A TATTOO?
At DIN GIOR we are concerned about your health safety. Apart from using disposable needles (We open cartridges and needles in front of you), We follow strict rules in order to avoid possible contamination. We do not Re Use material and drain all the disposable material right after the procedure.
IS IT PAINFUL TO GET A TATTOO?
Firstly it depends on the part of body where you want to have it as well as on your pain thresholds.  Usually painless parts on a body for a tattoo are the inner limb sides, the places where the skin is normally thin, and also where there are large numbers of nerve endings. On other places, the sensations will be less noticeable. When TKTX materials are applied, the sensitivity of the treated parts of body areas is reduced to a lower level by 80-90% (TKTX materials can be applied for additional cost).
CAN YOUR PARLOR CORRECT AN IMPROPER TATTOO?
In some cases YES, But it depends on what exactly you want to fix. The pattern which will overlap the "old aged" and improper Tattoo is important for consideration. The number of corrections to be made, the color schemes and number of parameters are also important things in the procedure.  That is why we offer a FREE CONSULTATION in order to decide an accurate solution for your problem.
HOW TO CARE FOR NEWLY APPLIED TATTOO?
Usually it takes 4 to 10 days for initial healing, and another 2-3 months for total healing (After total healing the care for your Tattoo is no longer required).
During first 4-5 days after a Tattoo is applied, it must be washed with antibacterial soap and lubricated with special NON ALLERGIC agents or creams.
Never stretch a fresh applied Tattoo.
Do not let your Tattoo get dry, Do not touch with dirty hands, avoid the direct sunlight and it is recommended to have tight clothing.
 The Tattoo master of our studio gives each client detailed instructions on how to care for a newly applied Tattoo
If you wish we can apply SUPRASORB F FILM on your Tattoo for additional charges, This allows additional care for most important period for your Tattoo first 3 – 4 days. We have special Spanish Balm and other Tattoo cosmetics which you can purchase at reasonable prices.
Ready to make an appointment?